The circular economy has been of increasing importance to the Indian consumer. Combined with the expanding middle class, people are actively looking for ethical products and businesses. Quick purchases were the norm in the previous decade. Consumers are now doing their research. They do not hoard their belongings and look for a singular long-term usage of their products, be it food or fashion.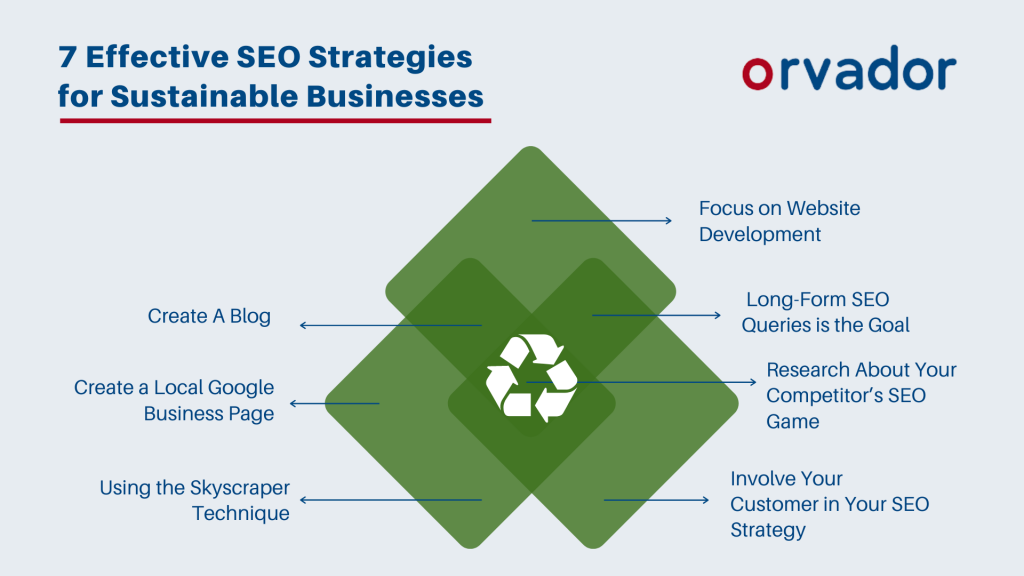 A potential customer, who always carries a mobile, is always on the lookout for new products, wherever they are. Such micro-moments have to be created by brands, with an IBM report mentioning that 35% of consumers shop in this manner. Customers are increasingly turning to online sustainable businesses, which provide information about what and why the consumer is buying, unlike traditional brands. 
The Voice of Fashion's (TVF) India Sustainability Report mentions that 49% of respondents were open to adopting sustainable practices. In this article, we outline a few SEO strategies for sustainable businesses to gain better reach and customers online:-'
SEO for Sustainable Businesses
SEO (Search Engine Optimization) is a method where organizations can organically get business leads or users without paying for ads or sponsored content. 
Building your SEO for a sustainable brand will involve two primary requirements- time and research. Doing thorough research of what your customers want would help to build your SEO content. Are customers looking for a specific requirement? Or are they looking for answers via your brand? SEO, like a brand, is to be built over time by earning trust. Posting content daily on social media and updating your website would go a great way in helping your Google Rankings. Also, read a detailed guide about the most common ecommerce SEO mistakes here. 
Create a Blog
Sustainable brands should educate consumers on what their product is all about. They inform them and do not bombard them with ads or posts. Having a conversation with a customer is what is utmost for a sustainable brand to gain trust.
Blogs help sustainable brands to educate and thereby gain the trust of their customers. Posting regularly about the latest developments in the industry, while also talking about your product enables your SEO too.
B Label, an Indian clothing line uses hemp to make affordable and everyday garments. It is a part of the Bombay Hemp Company, an Agro-enterprise. B label is consistent in writing articles on their blog. Examples include celebrities who use sustainable brands, the role of hemp, and the rise of slow fashion amongst others. Posting consistently has enabled B-Label to rise to the first page on Google Rankings. This also helps their parent company with its SEO, directing consumers to find out more about Bombay Hemp Company.
Posting high-quality and relevant content will keep consumers on your website for longer. The longer they stay on your website, the better it is for your SEO. Blogs help generate trust for the consumer and SEO for you, as an owner of a sustainable brand.
Create a Local Google Business Page
Local SEO, in simple terms, is optimizing your website for a specific local area. For this, you should include the name of your brand and the area it is located in. Both should go up in prominent areas such as contact us or our story on your webite.
Google Listings is another way to amplify your local SEO strategy. For example, Bhumika and Jyoti is a brand that makes clothes out of waste. Termed as a zero-waste concept store, they have successfully added their details on Google, which appears on the first page. This ensures consumers do not have to search aimlessly for the brand. Remember, you are fighting for attention in a world filled with noises. You will have to add or claim your organization, verify it thereafter and then add photos, videos, and your office timings on the page. In this way, people from a particular area can directly contact and rate you, which is a potential business opportunity for you and also increases your Google ranking.
For example, X runs a vegan food brand in Koramangla Bangalore. X should tailor their SEO to vegan food near me for consumers staying in Bangalore. People will click on the business profile and will be curious enough to go onto the website. Consumers who are conscious about their choice but unsure of their sustainable decision will often rely on ratings. How do unknown people feel about this product? Hence, ensure that your brand has ratings on Google.
Using the Skyscraper Technique
The Skyscraper Technique is a way of generating clicks in articles that are already published. Started by Brian Dean in 2015, this technique builds on content that is already out there. Let us go through it step by step for a sustainable band.
Finding Content That Has Many Backlinks
Sustainable brands, which are still at a nascent stage in India appear in an unorganized manner on Google. Most of the articles are listicles from websites that have a good reach. Such examples are Idiva, Elle, and Grazia. Use tools such as Ahrefs Site Explorer and Content Explorer to understand which websites have the most backlinks and organic search traffic.
Make The List Better
A preliminary Google search shows most articles on sustainable brands in India are from last year. Some even date back to 2019. Go through each listicle and find the brands which are not functional or the links which are broken. Add more brands to the list to better the original link. If the article lists 20 brands, you write 30.
Reach Out to the Original Creator
SEO has to be regularly updated. If you do not post regularly, your website will go down in the rankings. Articles written before will have information and broken links which are not of any use. Write to the website posting the original links to replace those with your superior links. They would gladly do it as their SEO rankings are maintained and your own rankings due to it being relevant.
In short, the skyscraper technique builds on content that is already out there. You need to find the best links, create updated and quality content and reach out to the original website.
Focus on Website Development
Perhaps an unnoticed feature of building a sustainable business, website development is gaining more importance. Google has indicated the mobile-first index will be used to determine SEO rankings in 2021. If a user is confused or irritated by the website layout, they will close the tab within seconds. The Google Search console helps website owners understand various user-experience issues for navigation via a mobile. Understand and hire an experienced web developer to solve all UX-related issues.
Meta Descriptions are short paragraphs that directly appear below the title tag on the search engine results. While meta description does not affect SEO rankings directly, it can lead to higher click-through rates. Each page on your website will have a unique meta-description, which involves page information and a call to action. Ensure the meta description is updated and carefully curated.
Adding an encrypted connection (HTTPS), checking for dead pages, and updating content are also the objectives a business owner should keep in mind for the website.
Long-Form SEO Queries is the Goal
2015: Organic Food in India
2021: Which are the best organic food brands in India?
The internet, which is a limitless sea of information, is often leaving consumers confused. Sustainable brands, in their nascent stage in India, would do well if they started using SEO to answer long-form queries. Users would use 3-4 words in their Google search in 2015, while 2021 has seen users use 7-8 words to ask queries. They want direct and simple answers.
A good idea would be to write blogs on such queries. Inform consumers by writing simple blogs, which tackle the answer in the very first paragraph. They will then read the rest of the article. 
Google's RankBrain, a machine-learning algorithm has been functional since 2016 and is the third most important factor in determining search rankings. It rewards long-form content based on time spent on the site, click-through rate amongst others. Informative and longer content ensures more people on the website and more click-through rates. Long-form content on sustainability would be relevant for a few years, while trendy content will not last more than a month.
Research About Your Competitor's SEO Game
Until you don't understand which keywords are working, how would you begin using SEO for your business? At times, SEO marketing is based on assumptions that work only 50% of the time. It would be better if you back up your SEO with research.
Spyfu is a great resource to understand the SEO strategy of competitors. It covers organic keywords, paid keywords, and PPC (Pay Per Click) rates. You will eventually understand how well your competitor is doing, rankings, paid campaigns, and much more. You can eventually start maintaining a keyword list of successful and unsuccessful campaigns
Involve Your Customer in Your SEO Strategy
Show, don't tell. Show your customer what the product is about and involve them. A sustainable business involves the customer making a conscious choice. Have them try and understand your product. Instead of saving the world through your product, show how their lives will change. 
Good Dot, a vegan food start-up based in India involves the customer in the journey and shares their feedback on their social media. Another idea would be generating SEO through video content on Youtube. Tie-up with digital influencers who are growing at a fast rate would be an additional source of increasing your SEO reach online.
Lastly, keep updating yourself on the latest SEO trends. Google has indicated that voice searches will be on the rise in 2021, with many consumers dependent on Alexa or Google Assistant for their daily needs. A good strategy would be to update yourself and try the latest SEO trends, even if they fail once a while. 
Orvador works primarily with sustainable brands. If you are looking for a sustainable brands digital marketing & SEO agency, you can contact us.