An SEO audit is a process of analyzing the strengths and weaknesses of a website and how well it performs on the web. The main purpose of the audit is to identify various foundational issues that can affect the organic search performance of a website.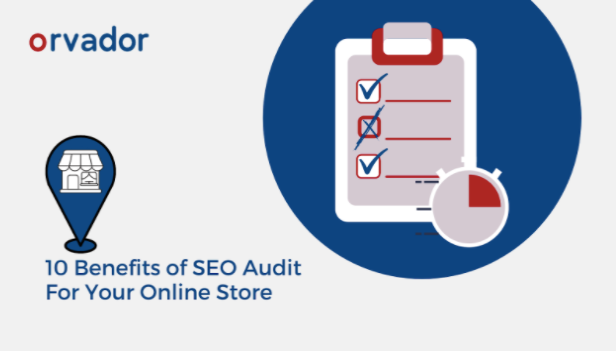 This process (that usually takes 2 to 4 weeks) also helps to discover the new SEO opportunities on the website and allows the website owners to stay updated with the current SEO requirements and trends. Comprehensive audits will assess the most significant of these ranking signals to identify where your website can improve. In this blog, we are going to identify the top 10 benefits of an SEO audit for an online store in 2021 are important.
Why Is eCommerce SEO Audit Important In 2021?
eCommerce SEO audit helps to develop a strong website and marketing strategy to fine-tune the website. It also gives insights into what our competitors are doing. Keeping an eye on competitors' actions is necessary when even a small CTA can improve your website's visibility. 
Search engines use ranking signals, which would determine the site's ranking on search engines. Here are the top 10 SEO audit benefits of an eCommerce store.
Improves Your SEO Strategy: Google changes its algorithm often to improve the users' experience. eCommerce SEO audit identifies those changes and allows you to improve the SEO strategy for your online store. This in turn helps to increase the website's ranking which is the goal of any SEO  activity. Hence,  timely auditing is important as it enables the evaluation of the plan to improve your eCommerce website.
Improves Conversion Rate: The importance of eCommerce SEO audit is that it helps to examine the top landing pages and their content, design, and CTAs that play an important role in maximizing the conversion rates. It takes a lot of trial and error to figure out what is best for an eCommerce website. This eventually has an effect on the ROI of the business with improved SEO and a better website ranking. The best part of Conversion Rate Optimization through SEO audit is that it doesn't simply focus on increasing the traffic but getting the right audience to your online store who can be your potential customers. It also keeps a track of such prospects and helps in conversion.
Identifies Offsite & Onsite Issues: Website audit identifies the issues that drive traffic away from the website. They may include spam, unfriendly URLs, broken backlinks, etc. Once these issues are resolved, it improves the retention rate of the customers on your website which could mean increased sales. To evaluate your on-page content strategy to find any gaps or places where you need to improve, you can also look at your competitor's content strategy. This helps you evaluate what type of content they create and how does it impact their eCommerce business.
Helps In Improving The Content: Among all SEO activities, the content remains at the top. The most important reason why anyone becomes a regular visitor to your online store is the content or the value you add to their life. Technical SEO audit helps in identifying the content that works and also that doesn't, on your eCommerce website. Improving the content could mean higher engagement and better organic ranking on Google.
Improves Keywords Strategy: Planning a solid keyword strategy comes from extensive research and an eCommerce SEO audit. As discussed previously, content is the core behind organic search visibility, and content is all about value and keywords. SEO audit helps to come up with improved keywords that can be used in meta tags, headlines, multimedia engagement, etc. which increase the chance of organic search visibility. Never add irrelevant keywords. Do your research carefully and pick out a few important and relevant keywords for each page.
Makes Page Speed & UX Better: Even though proper optimization is required, Google also focuses on user experience. It ranks those websites higher that provide outstanding UX besides higher website speed, minimum linking error, better site architecture, URL, and most importantly, crawlability. For better crawlability, it is important to use robot.txt files, proper sitemap, and efficient use of rel=noindex tag. Regular website auditing helps to find such issues with the code through  Page Speed insights. It helps to analyze different popular pages of the website to make sure you check over every bottleneck that slows things down.
Identifies Backlinks: Backlinks work on the simple concept: the higher the number of reputed links we have attached to our eCommerce website, the higher are the chances of getting traffic organically. One should also be aware of how many backlinks are there on the competitors' websites. This is again where auditing helps as it helps you identify how many backlinks your website has and also the quality of those.
Discovers Revenue Sources: There is a whole untapped market of influencers or affiliates who can become partners of your brand. Their followers trust them and often follow their advice. If such influencers collaborate for your eCommerce brand, it can be possible to create an impact on millions of people in one go. To find these potential influencers keyword research also helps. This is where auditing your eCommerce store helps by providing you the list of top influencers and bloggers using similar keywords.
Better Use Of Keywords: Google recently changed its algorithm to filter out those websites or articles from the web, where keywords are used simply to increase their visibility. Such articles didn't give any value to the readers. It was just a bunch of keywords put together. With the new algorithm, any article that uses keywords inappropriately is being penalized by Google. We helps you to design content strategically for your brand. Your content and words should be engaging enough and easy to understand. To rank higher in search results, you need to know what your potential customers are looking for and then build your website to include those keywords.
Enhances Usability: The website's usability not only depends on how beautifully it is designed but also on how efficiently the site is organized and arranged. Website visitors should be able to navigate easily and find the required information with the few clicks as possible. This is important because users' retention rate on digital platforms is short and to ensure sales, their needs must be fulfilled within a few seconds of them being on your eCommerce website. A website audit can help identify the drop rates on particular web pages that can be improved for better results besides identifying which all web pages are performing well.
eCommerce SEO audit is a regular exercise that needs to be performed periodically for a better understanding of the website and to keep you ahead of the competition. We hope that this blog gives you an idea of why SEO auditing is crucial for the better performance of your online store. It ultimately has an impact on the sales and ROI of the business unit. If you are looking for website auditing services, get in touch with us for quality and affordable results. Orvador digs deeper into your traffic data to provide concrete data analysis, structured strategy, and logical execution to provide all benefits of SEO audit.