Due to the coronavirus crisis, 2020 was filled with natural growth opportunities for eCommerce stores. With offline shopping becoming dangerous and inconvenient in many places, customers were inclined to make online purchases instead. However, the future of eCommerce in 2021 is such that eCommerce stores will have to work very hard to maintain and strengthen the momentum of the previous year. As the pandemic slowly fades away, customers will likely return to old habits. Don't leave the future of eCommerce to unpredictable circumstances. Rather, take control of your eCommerce store's growth by embracing the following eCommerce trends in 2021.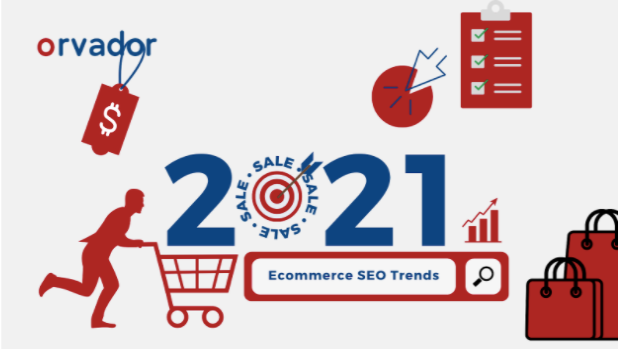 Page Experience Optimization Is Necessary For The Future of eCommerce in 2021
Google uses page experience – among several other factors – to determine the rank of a website. There are currently five search signals determining page experience. They are mobile-friendliness, safe-browsing, HTTPS-security, and intrusive interstitial guidelines. 
Among these signals, mobile-friendliness is the one that is of the greatest importance to eCommerce platforms. Customers are placing orders through their phones increasingly more often, and the mobile-friendliness of eCommerce stores must keep pace with them. This requirement is made more urgent by the fact that Google is set to complete its transition to mobile-first indexing (looking at a mobile site first as the primary version of that store) across all sites in March 2021. This means that a subpar mobile experience will lead to a lower search engine rank, while a better one will improve your eCommerce store's rank. This makes heightening mobile-friendliness one of the key future trends of eCommerce.
Furthermore, Google has derived three new signals that will also be important determiners of a website's page experience score, starting in May 2021. These signals are the largest Contentful Paint, First Input Delay, and Cumulative Layout Shift. They measure loading speed, time to interactivity, and visual stability respectively. Each signal represents a unique aspect of the user experience of a page, judging how user-friendly it is. Accordingly, greater investment in improving page experience is going to be a key aspect of the future of eCommerce in 2021. If you are concerned about the page experience score of your eCommerce store, read this article to learn about how you can improve pagespeed score using core vitals. 
Using A Keyword Strategy Centered Around Purchase Intent Is Essential 
Customers often use phrases like "nearby" or "near me" while searching for products or services. For example, think about every time you've searched for the nearest hospital in your area, the closest shopping center in an unfamiliar part of your hometown, or a restaurant in the middle of nowhere. Such search terms are excellent for spotting strong commercial intent from customers. Thus, accounting for such keywords is one of the most important future trends of eCommerce. Voice Search will also rise since Mobile traffic is increasing for the past few years. Read more about Tips and Tricks of Voice Search SEO here. 
However, by focussing on keywords that imply some strong acquisition intent, eCommerce stores can be well prepared for the future of eCommerce in 2021. Including such phrases ensures that eCommerce stores are reaching out to customers when customers are looking for something their business offers. By doing so, eCommerce stores can reveal online options to customers who may not be aware of them. Local SEO will also play an important role in this. 
Understanding the Role Of Artificial Intelligence In Search Engine 
Artificial Intelligence is becoming increasingly more important in the context of Search Engine Optimization. Google's use of Artificial Intelligence algorithms started with RankBrain, a machine learning algorithm that adjusts results based on the current query and past information. At the end of 2019, Google employed BERT, another Artificial Intelligence that seeks to understand the nuances of the language used in a search and tries to interpret longer terms to find the most relevant results. It can also contextualize words in a search term based on the other words around it. 
With respect to the future of eCommerce in 2021, this means that eCommerce stores will need to develop high quality, well-organized content that engages and informs users. Although traditional SEO markers like keywords, etc. will remain important, the use of Artificial Intelligence by Google mandates their intelligent, sensible, and relevant use. This means that technical SEO will become more important in the future. 
Video Optimization Is Key For The Future Of eCommerce in 2021
The importance of images in eCommerce is well documented. They build trust, boost customers' purchasing tendencies, and convey important information, both implicitly and explicitly. However, it is online video content that is imperative for the future of eCommerce in 2021. Although videos and images serve similar purposes, the dynamism of video content makes it far more powerful in attracting and retaining customers for your eCommerce store. 
While making video content for your eCommerce store, ensure that your video channel's name and description are optimized, and provide a comprehensive, user-friendly overview of the channel. Additionally, using the keywords smartly is crucial. For example, while optimizing for YouTube, take inspiration from the auto-complete feature of the website's search box. Type in your video's topic, noticing what appears up in the search field. Use the results as a list of suggested keywords, because the autocomplete feature reveals exactly what YouTube users are looking for! After creating a list of keywords, ensure that you are using them intelligently, without compromising users' experience of your channel or its videos.
Fulfilling the EAT Principle Is Imperative
Providing high-quality content is critical to achieving a high rank. However, which parameters determine quality? The EAT principle is the answer to this question and will shape the future of eCommerce in 2021. Standing for Expertise, Authoritativeness, and Trustworthiness, the acronym 'EAT' describes the three key attributes of quality content, as determined by Google. 
Accordingly, you can take several steps to ensure that the content on your eCommerce store is evaluated highly by Google. To begin with, create buyer personas, which will help you understand the type of content that appeals to your clients. You must also conduct search intent research to better map out the consumer journey. Then, use this information to create content in your users' preferred formats. For example, if you're catering to youth, video and short-form content is probably the way to go. If you're serving an older audience, easily navigable text-heavy content may be more appropriate.
Finally, be mindful of the EAT principle as you craft content, because attention to detail will add up to improve the ranking of your eCommerce store. For example, support the claims you make with statistics and facts, linking to reputable sites with great DA. Having authoritative websites backlink to your website is another way to fulfill the EAT criteria. Create Pillar Content for your store and do an outreach campaign to promote this and outshine the competitors. 
The future of eCommerce in 2021 indicates that gaining and maintaining an enviable position in the eCommerce space will not be an easy task. However, by improving these five aspects of your eCommerce store, you can ensure that 2021 is a successful year for your business.  We can help your eCommerce store implement the future trends of eCommerce and create a competitive advantage. Get in touch with us today for expert advice and services!