Sustainability seems to be the buzz word these days; whether it is individuals or corporates, everyone seems to be working towards a "sustainable future". The literal meaning of "sustainability" as per the Google dictionary is "prevention of the depletion of natural resources in order to maintain an ecological balance". Basically, sustainability aims at fulfilling the needs of the existent life, with no negative effect on the fulfilment of the needs of our future generations. Orvador is a strong supporter of creating a sustainable ecommerce business, and constantly working on ideas for lesser impact on Mother Nature.
Sustainability at Individual Level – The trend that many people have quit using plastic is the best example of sustainability and social responsibility. Similarly, people embracing a vegan or vegetarian regime is also another great example of sustainability. 
With many initiatives and "days" being celebrated, such as the International Day of Forests on March 21st, World Earth Day on April 22nd, World Biodiversity Day on May 22nd, World Environment Day on June 5th, and World Energy Conservation Day on November 14th just to name a few, there is increased awareness among people to care for the environment. As a result, people are working more enthusiastically towards a sustainable future. 
Sustainability at Corporate Level – Sustainability at the corporate level can be achieved by cutting down the levels of pollution through industrial emissions, dropping the usage of exhaustible natural resources, obtaining raw materials from fair-trade groups, and ensuring minimum carbon footprint by disposing their waste in the best possible way.
The Three Pillars of Sustainability
Sustainability emboldens organizations to take long term decisions, keeping in mind the environmental, social, and human aspects, instead of focussing on mere short-term financial gains. Progressively, more and more companies have taken up sustainability goals, for instance, pledging zero-waste packaging, minimizing the toxic emissions, procuring sustainable raw materials, just to name a few.
The World Summit on Social Development in the year 2005 deciphered three essential aspects that aid the idea of sustainable living. These were termed as "pillars", and were identified and acknowledged by many national principles and certification systems. Following are the pillars of sustainability: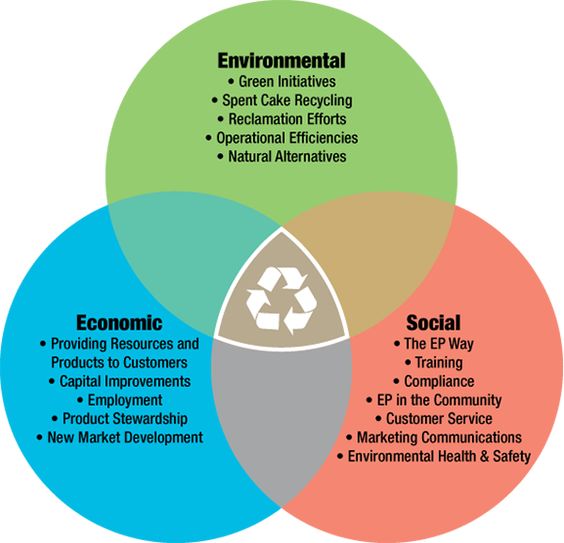 Environmental Pillar (Planet)
The environmental pillar is something that is spoken about over and over again. Most of the companies today are focusing on minimizing carbon footprints, reducing packaging waste and minimal usage of exhaustible natural resources. Companies have realised that by doing the aforesaid things, they are also directly or indirectly reducing their additional costs and achieving a positive financial result. The best example can be Wal-Mart that revolutionised their packaging through zero-waste initiative, by procuring packaging material from recycled or reused supplies.
Social Development (People)
The primary responsibility of a sustainable business is to support its employees, stakeholders and the civic system it functions in. There are many sides to this pillar, but it can be narrowed down to treating employees justly and being socially responsible towards the community at local as well as global levels. In countries such as North America and some European developed countries, strict instructions and regulations have been laid down on businesses to ensure that the good quality of life of people is not compromised at any cost. Similarly, the social aspect of sustainability also deals with educating people to understand the importance of environmental impact and protection of natural resources.
Economic Development (Profit)
Well, profit is supposedly the prime intention of any business, as it directly or indirectly impacts the society in terms of salaries, incentives, facilities, and employment. But none of this can be achieved at the cost of the planet we live in. The economic pillar of sustainability is where most businesses feel they are on firm ground. It is a fact that in order to be sustainable, a business needs to be gainful. Nonetheless, profit cannot undermine the other two pillars of sustainability. The core of economic pillar has to be compliance and good governance.
The Principal Objectives of Sustainability – 
The basic idea behind sustainable development is to enable the professionals to think, perform and impact at a global level. In 2012, the United Nations Conference on Sustainable Development conducted a meeting and came up with a set of goals to achieve, which they termed as Sustainable Development Goals or SDGs that encompassed 17 items. Some of the major SDGs are mentioned below –
Ending poverty and hunger.

Improved levels of education and lifestyle, including medical facilities, sanitation and healthcare.

Eradicating gender inequality

Better and inclusive job opportunities to achieve sustainable economic growth.

Deal with the impacts of development on the environment and general health and livelihood of people.
Living a Sustainable Life – the way ahead!!
It is a fact that the economic and social development that the world has shown over the last century has emanated environmental degradation as a by-product. This has attracted the attention of many social and environmental activists, and has slowly started involving common people too. Here are some appalling facts that emerged, as published by the United Nations Organization, while compiling one of the SDGs –
Every year, one-third of the total food produced gets rotted and wasted – this accounts to nearly 1 trillion USD! This wastage is either due to lesser sales at the retailers or distributor's end, or due to lack of proper transportation from the producer's end.

Just by changing to energy efficient light bulbs, mankind would save 120 billion USD in a year!

With the current rate of population growth, our planet is expected to reach the population milestone of 9.6 billion by 2050. This number would require the natural resources of almost three planets, in order to sustain the existing lifestyles.
Time and again, experts say the COVID-19 pandemic has emerged as a blessing in disguise. Looking at an individual's point of view, the deadly disease has made people reconsider their food choices and made them opt for healthier and organic versions of food. Looking at the larger picture, we can say that the situation has made many countries ponder over the different plans that will inverse the present consumption and production trends and help us graduate towards a more sustainable lifestyle in the future.
Speaking of production of sustainable products, many farmers have now moved to "safer" ways of farming, which includes minimal use of chemical pesticides and fertilizers. In short, "Organic farming" is the buzz word. Many online stores such as Big Basket, Ricemandi, HelpUsGreen, The Organic World, Farm2Kitchen, etc. have been supplying organic products to the consumers on demand, and turning out to become the "eco-friendly stores". During the last few years, organic food products have become "the way of life", and have proved to be a great alternative to conventional food. While some people have better health as the motivation, some have "social responsibility" as the motive behind shifting to organic foods.
Another category of sustainability conscious people are those that are shifting to vegan food. Many ecommerce companies such as The Vegan Warehouse, Vegan Dukan, Get Moksha, and Planet Organic have gained their special place among the vegan food lovers.
Time for some more exciting numbers! 
According to a study by Assocham-EY, the projected market size for Indian organic food is expected to reach nearly ₹871 million by 2021, which was at ₹533 million in 2016. 

The above data shows that we are seeing an annual growth rate of nearly 17 per cent. 

According to the latest available data, the organic harvest amounts to a total of 90 billion Euros in the world market. 

The United is the largest market with a value of 40 billion Euros, followed by Germany that stands at approximately 10 billion Euros, France at 7.9 billion Euros, China at 7.6 billion Euros and Italy at 3.1 billion Euros. 
Rise of The Sustainable Ecommerce
The e-commerce industry has been a trend-setter in the awareness of the environment and its sustainability. Many e-commerce companies are putting in vigorous efforts to address the growing demand for sustainability, and coming up with innovative "green commerce" projects. Most of the online retailers have been developing extensive plans to implement their corporate social responsibility and adopting eco-friendly commerce approaches by managing their supply chain system. 
Let us look at the background first – as per the report by the Sustainability Annual Trends by SustainAbility, e-commerce industry has seen a fast growth in recent years leading to unparalleled negative impact on the environment. The approximate quantity of waste that gets dumped into landfills in a year is more than 2 billion tons, globally. These wastes include cardboard packaging boxes, plastic packing material and Styrofoam or thermocol. Such harsh effects on the environment have made several ecommerce companies reconsider their practices and revisit their supply-chain network and look for sustainable products to avert the negative impact on the environment. One great way to do so is to adopt eco-friendly packaging methods and materials. 
As a positive step in the direction, many retailers have adopted various strategies, even to the extent of revamping their entire product line. Adding home decor items made of wooden scrapings, used papers, cardboards or bottle-cork, etc. send a strong message of following sustainable practices. One example is that of Packhelp, that has started an initiative enabling companies to procure eco-friendly packaging materials, with an "eco-badge" on their materials. They also support the "Green India" movement by promoting tree plantation. Another excellent example is TOMS Shoes Collection, who is a globally recognised brand for using a packaging material that is made of recycled waste material and coloured with soy ink. 
All said and done, corporate social responsibility today is not just a promotional stunt by a company. The millennial consumers are well aware of the concept of sustainability, and thus they are on the constant lookout for brands and businesses to fulfil their demands. Many countries of the world are also adopting practices to ensure sustainability.
Paris – setting an Example to the rest of the world
In a very different line of business, Paris is aiming to set an example for the rest of the world by working towards becoming the most sustainable Paris fashion capital of world by the end of 2024. The initiative has been named 'Paris Good Fashion' and it intends to drive the global fashion industry towards adopting sustainable practices. The process has been planned in such a way that three themes will be covered – refining procurement, working on creating a sustainable process and finally, constructing an all-inclusive economy. The proposal was put forward at the Institut Français de la Mode by the Deputy Mayor of Paris Frédéric Hocquard, the deputy in charge of social economy and solidarity Antoinette Guhl and the renowned fashion journalist Isabelle Lefort. The primary aim of the Paris Good Fashion initiative is to become more conscious towards the environment and sustainability. 
Sustainable Start-ups for a Sustainable India
The best way to move forward in business in today's world is to embrace change and adopt new and sustainable practices. The ecommerce industry is now ruled by those who practice clean and sustainable ecommerce practices, just like Orvador.
Bonus: Below are two most important Ecommerce SEO and Growth Marketing posts to help you grow sustainable ecommerce and startups online!

6 Effective Ecommerce Growth Marketing Tips
India is also gradually but progressively adapting to this revolution, the result of which is the budding of new clean-tech start-ups. Many of the sustainable start-ups are proposing astonishing solutions to create a future based on clean energy consumption. The future of Ecommerce startups in India is very bright with companies like Google'd direct investment etc. We have listed a few sustainable ecommerce brands that took birth in India very recently, yet have attained a commanding status in the world of green ecommerce – 
SayTrees: SayTrees not only has a catchy name, but also fulfils the great responsibility of reforestation. It is run by a group of nature lovers who strive towards protecting the environment and simultaneously sensitise the people about the significance of conservation of the environment. They run several campaigns to drive people to take part in tree-plantation programs. What started as a weekend recreation in 2007 is now a full-fledged organization that performs more than 50 tree plantation initiatives during the rainy season alone!
Waste Ventures: This start-up originated in Delhi in 2011 and currently has more than 40 projects in a row for the year 2020. They venture the wastes from dump-yards and nutrient-rich organic compost that can be used in agriculture and other activities. They enter into long term agreement with the local authorities such as municipalities, hire garbage pickers to separate out different types of waste at their processing units and then transform the same into something usable and beneficial.
Fourth Partner Energy: This start-up aims at garnering solar energy and deploys the same for different activities at various levels. It was founded by Vivek Subramanian, Saif Dhorajiwala and Vikas Saluguti in 2010. Fourth Partner Energy (4PEL) finances and builds rooftop solar panels for commercial and residential units.
The Organic World: The Organic World aims at providing organic and sustainable products bangalore to its clients. These products include edible items such as fruits, vegetables, and groceries, besides other items like beauty, homecare and skincare products. All the products supplied by them are free from any sort of adulteration, and promise premium quality and a healthier option at affordable rates.
Pa-Ni: PA.NI, as the name suggests has something to do with water! It is an Indian swimwear brand that aims at empowering women, by breaking the barriers of body-size. They produce swimwear for women across different body types, including those with larger body frames, enabling them to feel comfortable and confident without any compromise on style. Their swimwear is created using fishing nets that had been discarded; the nets are recycled into fabric, making this an eco-friendly and sustainable swimwear brand.
Well, we have just named a few clean-tech start-ups businesses that contribute towards the dream of "sustainable development", which can only be achieved through the joint efforts of corporates and individuals. Keeping that awareness in mind, many of the e-commerce businesses have started adopting cleaner practices. Orvador can suggest you various ways to achieve a sustainable e-commerce business model. Grow your sustainable Ecommerce businesses with SEO and Growth Marketing tips shared by us. Keep watching this space for more interesting topics.