Search engines exist to give users answers to their queries within seconds. The top-quality results are usually on the first page of the search engine. This is determined by a variety of factors. SEO or Search Engine Optimization is a method where organizations can organically get donor leads or supporters without paying for ads or sponsored content. 
In 2021, newer trends are emerging. Google has indicated that voice search and the importance of UI-UX design will play a major role in a website's ranking. In this blog, we will talk about how nonprofits can improve their Google ranking, be it on a local or national level.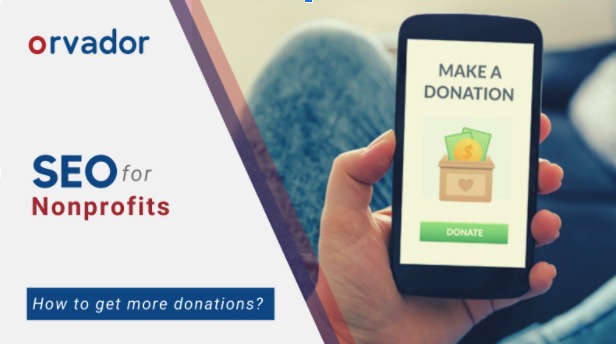 1. Create Quality Content
In an information-filled world, creating content that is precise and clear is an advantage. Most users get distracted by the barrage of notifications that appear on their phones, hence your information should be to the point and in simple language. For example, if your nonprofit's work is that of educating underprivileged children in a particular state, use graphics to indicate the education rate over decades instead of using plain text. This attracts the attention of the user and communicates huge numbers via graphics, which highlights the immediacy of the cause.
Content is the king. It is important to make sure that it is precise in its language and crystal clear in its communication. While creating content for your nonprofit, remember that you are writing for a specific audience and with a specific intention. Do not stray away from the topic at hand, and be consistent in publishing to indicate to Google and users that your nonprofit is trustworthy and an expert in the field. Some of the ways you can publish quality content are:-
Write articles of 1,200-1,500 words that talk about a particular campaign of your non-profit, donor feedback, or beneficiary stories. You can use these posts to drive users to events and campaign pages. This is also the content type where you can use long-tail keywords like 'donate for girl child's education in India', that have a higher conversion rate.
Google trends have indicated that videos will be of increasing importance for SEO in 2021. Publish videos of various types on your nonprofit's Youtube channel, using keyword-optimized descriptions to lead users to your website and campaign pages.
Post images of your nonprofit's success stories, events, visual representation via data amongst others regularly on social media. This can help you build credibility amongst potential donors to the organization. Keep in mind that your audience could be anyone, hence your content should be engaging for current followers and informative for new followers.
2. The Importance of User Experience (UX)
An underrated aspect of the online world is how will users navigate through your website. Can they see the 'our work' section easily? How long does it take a page to load on your website? Which is easier to navigate, your landing page on a mobile or a laptop?
These are all aspects of the UX of your website, which is a crucial tool in highlighting the work of any nonprofit. A good thumb rule to follow is that of three clicks: users should find whatever they want within three clicks on a mouse. 
Google has also indicated that the mobile-first index will be used to determine SEO rankings in 2021. This means that the longer a user stays on your website, the higher your SEO rankings will go. If a user is confused or irritated by the website layout, they will close the tab within seconds. The Google Search console helps website owners understand various user-experience issues for navigation via a mobile. Understand and hire an experienced web developer to solve all UX-related issues.
3. Understanding the Importance of LOCAL SEO Strategy
Local SEO, in simple terms, is optimizing your website for a specific local area. For this, you should include the name of your nonprofit and the area it is located in. If you are a waste recycling nonprofit located in Delhi, add the name along with Delhi in your SEO strategy. This then shows up as a business on Google Listings.
Google Listings is another way to amplify your local SEO strategy. You will have to add or claim your organization, verify it thereafter and then add photos, videos, and your office timings on the page. In this way, people from that particular area can directly contact and rate you, which builds credibility and also helps in increasing your website's Google ranking.
4. Understanding the latest SEO trends
The digital world is in a constant state of flux, with different trends every 2-3 years. The best way to update yourself is to follow a few trusted websites in the SEO space. Here is what we recommend:
Tip: Google offers a higher ranking on websites that run on HTTPS due to its non-disclosure of user information and security features. If your nonprofit website is still running on HTTP, we strongly suggest updating it. Orvador can help you with the same.
5. Link Building As a Method of Building Brand Awareness
Most nonprofits publish an annual report on their findings and work for a year. This includes various graphics and images from all the work done throughout the year. Publish your annual report as a PDF on your website.
Reach out to industry leaders who will find your report interesting and useful. For example, if you are a nonprofit that specifically works on educating girls in western India, reach out to a newspaper that is publishing an annual report on the state of education in India. The newspaper will then link your report on their website, which generates leads and awareness amongst people. Lastly, it also aids your SEO strategy due to a publication having much stronger SEO content.
6. Using Appropriate Keywords for Your SEO Strategy
The most important commodity in the online world is not money. It is TIME. Most people are in a hurry, so if you can write something in five words, do it. Gather your facts and convey them to the people you want to target. Using the right keywords for your SEO strategy is of utmost importance to rank higher on the Google search engine. Keeping in mind that the SEO is for a nonprofit, use keywords that are relatable to your potential donors.
Keep certain keywords in mind while crafting an SEO strategy. This will ensure you would not stray away from strategy, and also keeps in focus the type of content you are working on. Lastly, the content that you write is for people. Make it sound practical, easy to understand, and in a direct tone. Do not write anything which seems forced or illogical.
7. Follow Relevant SEO Practices
Google has certain parameters when it comes to using SEO for a website. For example, the meta description of a page should be anywhere between 50-160 characters only. Such parameters help the Google algorithm filter the best pages and move them to the top. Here are some on-page SEO elements you should know;-
a) Title Tag: A title tag is a clickable text that appears in blue on the search engine. It also appears at the very top of the internet browser you are using. Title tags are of primary importance when it comes to Google rankings. Ensure that a relevant title tag is used for each page that contains your keywords, with adequate branding at the end. Title tags have a maximum of 30-60 characters which can be used.
b) Meta Description: This is a short paragraph that directly appears below the title tag on the search engine results. While meta description doesn't affect SEO rankings directly, it can lead to higher click-through rates. Each page on your website will have a unique meta description, which involves page information and a call to action. Meta descriptions have a 160 character limit on each page. 
8. Choosing the Right Content Management System
Choosing the perfect CMS is crucial because search engines prioritize websites that post the latest content. WordPress is open-source software that powers around 35% of the websites worldwide, having the latest web designs and blog tools. Do not build a custom CMS due to the complications involved and costs of hiring developers. Lastly, choose a CMS that supports omnichannel such as AR/VR, voice searches, or even digital assistants for the future.
9. Challenge Yourself With the Latest SEO Tools
Try to challenge yourself to take on the new. Google announced that they will launch Core Web Vitals in May 2021. They defined it as, "A set of real-world, user-centered metrics that quantify key aspects of the user experience. [Core Web Vitals] measure dimensions of web usability such as load time, interactivity, and the stability of content as it loads.
Google has also indicated that voice searches will be on the rise in 2021. According to the report, one in six Americans owns a voice-activated smart speaker. This is only set to rise in the coming years. Experiment ruthlessly while doing your SEO is the only way to grow.
10. Continuously Understanding Your SEO
Unless you do not put in the work, your SEO would not grow. Publish often and daily on all social media platforms. That is the only way your SEO would grow, adding value for your potential donors. Evolve your strategy as you go along. The benefit of doing SEO for a nonprofit is that you have a very niche area to work on with very specific keywords being the jackpot for the organization. But this only happens if you publish quickly and continuously.
SEO strategies and trends will constantly evolve, and it is up to the nonprofit to adapt to the latest trends. A content strategy will only work if it is executed. The coming decade has voice searches and digital assistants as the new trends, with search engines adding more filters for higher rankings. Investing in a sound SEO strategy will only be long-term gains for the nonprofits.