One of our clients was NEGATIVELY HIT by the latest Google's 4th May 2020 update and witnessed a traffic drop of 80%.
A potential client approached Orvador in June to get rid of the Google penalty. A Google penalty means trouble and hence we spent a good amount of time to understand how serious was the hit and what caused it. 
Our complete SEO audit of the client's website revealed several technical issues. After being doubly sure of the problem and the solution required, we agreed to work together to get rid of this negative impact of Google's 4th May 2020 update.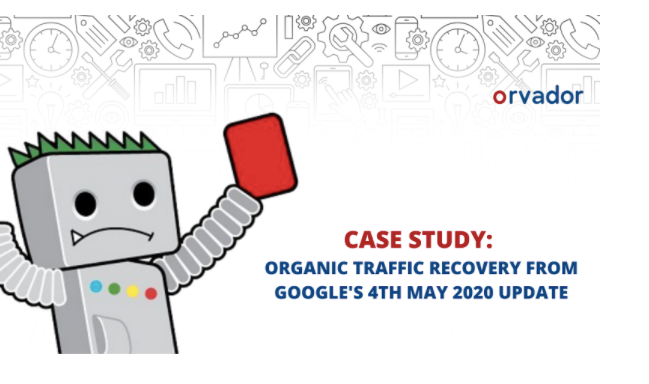 Let me start by explaining what a Google Update is and how it can lead to a Google Penalty.
Google often rolls out updates with an aim to improve the relevance and quality of the search results. These algorithm changes, filters, data refreshes, or other alterations are often done for better user search experience. These are important events for webmasters and SEOs everywhere. But, these updates can have a negative or a positive impact on your website.
A negative ranking may not mean that you have done anything wrong to invite that penalty. This could be the result of past work or historic changes on your website. 
The client's website got its usual traffic back within 25 DAYS!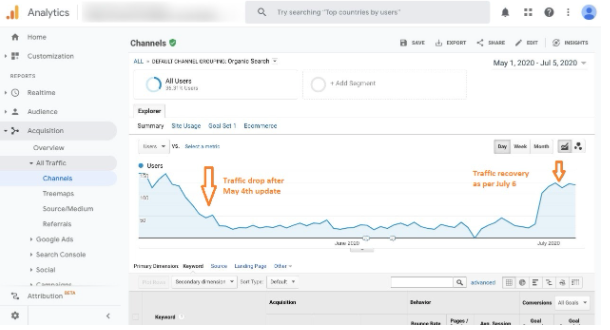 Here's what we did:
Search console errors fixing: This was a very important step in the whole process because if there are crawling or indexing problems, Google does not index the website correctly which negatively affects the rankings. We did a detailed examination of the client website and fixed all the reported errors. We also took the help of some other SEO tools.
Removed/fixed thin content: We identified those pages which had a higher bounce rate. Meaning, we looked for 'thin content', which refers to any useless content – pages with a sparse word count, duplicate content, doorway pages, ad-riddled pages, and blog posts or articles that lack readability and depth. This was important because if you have enough content that performs poorly and isn't delivering the experience the user wants or needs, it can easily tip the scales and diminish Google's trust in the site as a whole.
Improve website Homepage SEO: By the time your customer is on your page, you've already won half the battle. Hence, it is important that their journey onwards is as smooth as possible to ensure the final purchase of your product. To improve the same, we worked on Homepage SEO factors and fixed them based on their niche keywords, internal links, and page speed factor.
Solved crawl errors and redirect issue: The next step was to fix the broken links, https issues, to ensure they do not affect the website's rankings for those particular pages. The results were not instant but they showed up before we expected.
So if your site was hit by a core update, it is often recommended to step back from it all, take a wider view of your overall website and see what you can do to improve the site overall. 
Consult with our team of SEO experts to help you save the trouble.