eCommerce Sustainability Is In Demand
There is an increase in demand for sustainable brands around the world. This demand is led by the millennials and Gen Z consumers who are said to have a "social-first" mindset. Several types of research have proved the youngster's preference for eco-friendly and green products. Making up for a good percentage of overall consumers in the market with high spending power, eCommerce brands have no choice but to fulfill this demand to thrive in the future. 
The 2019 report, "The State of Consumer Spending: Gen Z Shoppers Demand Sustainable Retail," notes that 62% of Generation Z prefers to buy from sustainable brands and 54% of them are even willing to spend an incremental 10% or more on sustainable products, with 50% of Millennials saying the same. This compares to 34% of Generation X and 23% of Baby Boomers. It appears that with every generation, the quest for sustainability strengthens. And it's not just millennials. In the US alone, consumers are expected to spend $150 billion on sustainable products by 2021.
The recent international study of 20,000 customers by grocery brand giant Unilever identified one in three (33%) people were choosing to buy from brands they believe are doing environmental good.
Here's another interesting data by Cotton Incorporated Lifestyle Monitor that proves the point.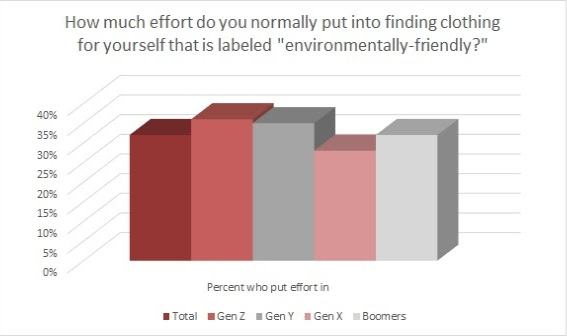 Source: Sourcing Journal
Why eCommerce Brands Should Take This Seriously
Millennials, born between 1981 and 1996, constitute 22% of the population, according to Statista. The research and analytics firm estimates that collectively, this generation's spending power will have grown from $600 million in 2013 to $1.4 trillion in 2020, representing 30% of total retail sales.
The younger Gen Z, or those born from 1997-to-2012, spends an estimated $143 billion a year. But with a population of 90.5 million, Statista rates it as the largest generation in the U.S., accounting for nearly 28% of the population. Considering this group is aged just to 8-to-23 years old, it is fair to consider that they will have an astonishing amount of purchasing power within the next decade. That's why brands should be making an effort now to up their sustainability game.
5 Examples Of Sustainable eCommerce Brands
The Organic World provides organic and sustainable products in Bangalore to its customers. They are often associated only with fruits & vegetables, grocery, and dairy and farm products but they offer organic retail to their customers through apparel, home needs, and personal care products as well.
The Organic World was started with the mission to make a positive and progressive difference to the world we live in. The company was launched to give customers the most remarkable organic shopping experience for all their daily needs. Our client provides locally sourced and organically grown produce. All their products are supplied by them are free from adulteration, promises premium quality, and a healthier option at affordable rates.
PA.NI is an Indian swimwear brand that caters to different body-types and opens conversations about body positivity. It uses high-grade Italian fabric made from recycled fishing nets. Their manufacturers are selected based on their compliance with ethical and environmental standards. Through their materials and processes, they induce sustainability in their value chain and deliver a product that uses waste as a resource. PA.NI was started to help women who felt they had to compromise on either style or comfort when it comes to buying a swimsuit. Our client also believed that creating apparel should have a minimal impact on the environment and that it is their duty to help clean the oceans which has more than 12.7 million tons of plastic waste in them every year.
Sustainability is at the core of all Rubamin's initiatives and their efforts help reduce the hazardous waste load on landfills, save valuable natural resources, and greatly reduce the environmental impact of manufacturing metal compounds from primary processes. Our client's recycling efforts are aided by their management, employees, suppliers, consultants, research centers etc.
Butt Naked Body makes worry-free, plant-based, cruelty-free + vegan skincare products. They are building a sustainable and ethical skincare brand inspired by real life. They believe in stripping it right back to basics because self-care should be easy, fun, personal, and compassionate. Their formulas are free from fillers, parabens, sulfates, phthalates, artificial fragrances, and synthetic dyes. Our client wants our skincare routines to be a toxin-free zone, which is why they are conscious of what they put into their products and hence uses quality ingredients from mother nature.
The brand carefully curates a variety of everyday-use products that are earth-friendly, with a single goal to leave this Earth better than we found it. They source their products from individuals, groups, and brands who have made it their mission to create a positive environmental impact.
With an environment-first approach, Brown Living takes a genuine interest in understanding materials and methods of creating products and services that can co-exist with our ever-evolving world, with doing the least damage to the earth. They thereby measure the impact of production, use, and disposal of each product that is curated by them.
Benefits Of Going Sustainable
Get Loyal Customers: In the eCommerce industry where consumers have countless brands to choose from, loyalty is hard to come by. But the research has shown that consumers who prefer sustainable products are loyal to their choice of brand.
Sell At Premium: 66% of consumers say they're willing to pay more for sustainable goods. When people buy products that match their values, they do not mind spending an extra buck to satisfy their conscience.
Good Brand Image: Dealing in sustainable eCommerce will also help your brand to be recognized as a socially responsible brand in the market. Brand loyalty often generates from the good image of the brand.
Make Real Impact: Climate change and the environmental crisis affects us all. It's a responsibility of none but all to save the dying ecosystem of the Earth. Dealing in sustainable eCommerce could be your way of protecting and preserving our environment for our future generations.
As consumers become increasingly aware of consumer goods' effects on their bodies and the world around them, they're also more interested in buying sustainable products. Shoppers select products not only based simply on price or brand but now attributes such as "climate-friendly" or "eco-friendly" are part of the consideration.
Orvador is Sustainable Ecommerce SEO agency that believes in the mission of such brands and aims to support them through its online marketing services. We are proud partners of many such leaders in the market, including the Bangalore startup, The Organic World, and Australia's conscious brand, Butt Naked Body and many more. Get in touch with us for the special quote!