As an eCommerce SEO specialist, I have come to experience that doing SEO for eCommerce websites is one of the most challenging tasks. Whereas every webmaster must keep themselves updated about the Google SEO algorithm updates, it is also super important to make sure you get the basics right to master advanced eCommerce SEO.
Knowing what the gaps and opportunities are, a webmaster can be at the forefront of their SEO game. From that perspective, I have compiled a list of the most common ecommerce SEO mistakes and errors that you can make while running an online store. If you can avoid these listed below, you can get higher traffic and may also notice better conversion rates. The idea is to fix these SEO errors, adopt best practices for your store and, lay a solid SEO foundation for your website.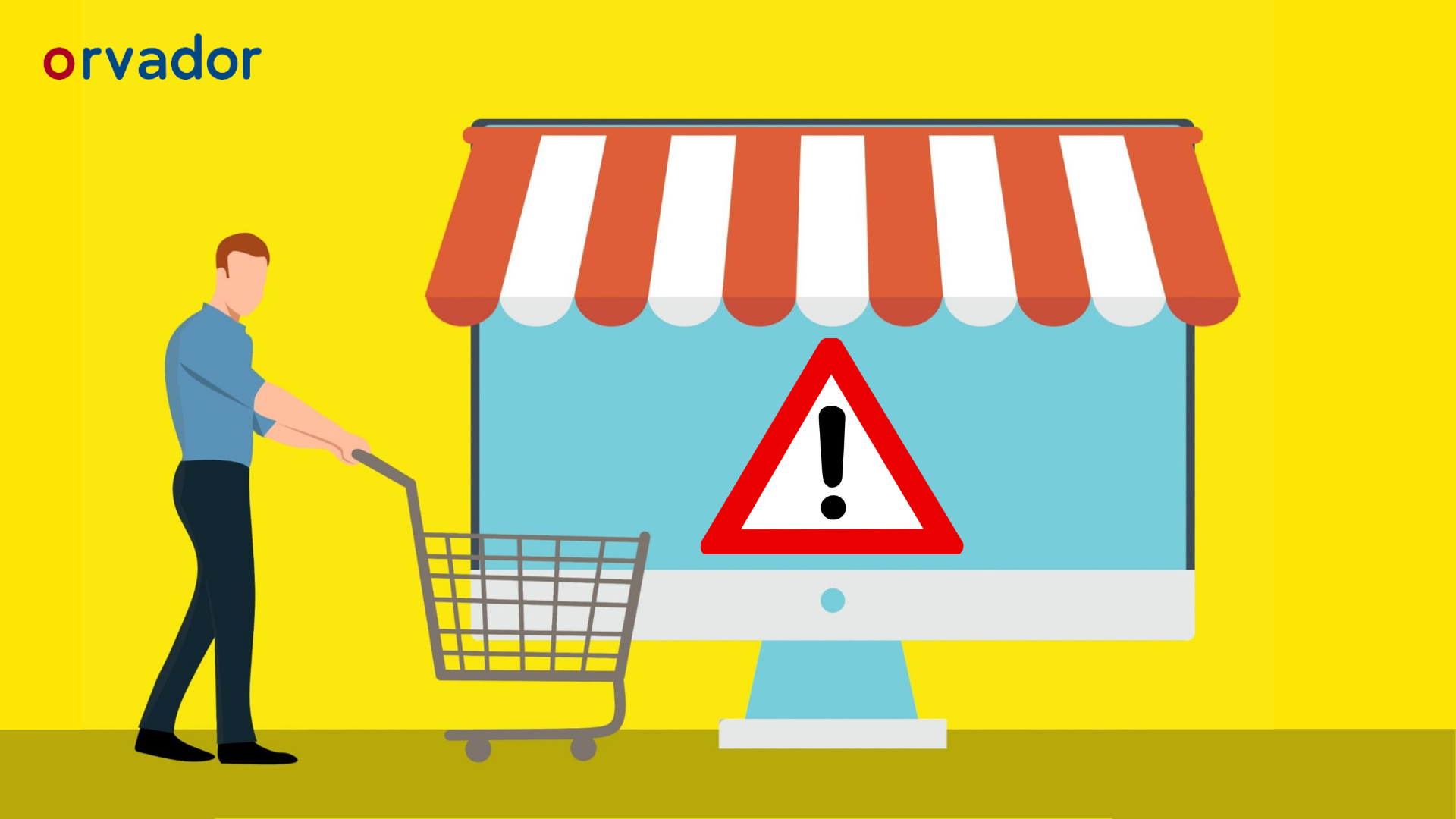 So, if you are struggling to get better SEO results for your online store or your new website's organic traffic is not good, this article will help you improve your SEO strategy for eCommerce sites.
Mistake 1: Deleting Discontinued Products Web pages
eCommerce businesses like fashion and clothing launch new collections every year or season. This also means that they have to discontinue some of their previous ones.
It is important to handle the web pages of the discontinued products in a way that they do not hit your SEO efforts. Here is what you should or shouldn't be doing with them.
You should not delete or remove discontinued product web pages. These could be the ones attracting the highest organic traffic or might as well have some great backlinks from social shopping sites like Pinterest or your blog posts. Simply deleting any of these will run into 404 errors which means you will lose all the organic traffic as well.
Instead, you should display a clear message on such product pages and inform your customers about their discontinuation.
Following this, you should download the list of all discontinued product web pages and check their organic traffic in analytics. This will give you some idea about their SEO popularity, basis which you can redirect these web pages to their parent category. This will pass on some SEO value to the redirect page instead of losing it forever. I don't recommend redirecting these to similar product pages because you might need to redirect those pages as well the next year once they are discontinued. And in 3-4 years, it will create a redirect hop (multiple redirects for search engines) which is not a healthy SEO practice.
If you are a big eCommerce website and have good organic traffic coming in from other channels, you can afford to avoid the above hassle. In that case, you can put a Noindex tag on discontinued product pages and remove the hyperlinking from other sections of the website like homepage, category pages, blogs, and others.
Mistake 2: Forgetting To Activate Site Search In Google Analytics
Many times when I get an eCommerce project, I notice that the 'Site Search' is not activated on the client's website. Why is it important? 
If activated, Google Analytics Site Search can give you great ideas about user behavior and the type of keywords they use on the website to search for the products. It also lets you know which keywords result in a "No Result" page on your website. Using this data, you can optimize your existing landing pages and can also create user-driven content topics to serve your customers better.
All you need to do is download the list of those keywords and find their relevant pages. You can even do Google search and cross-match this with Search Console data to see their current position, impressions, and clicks.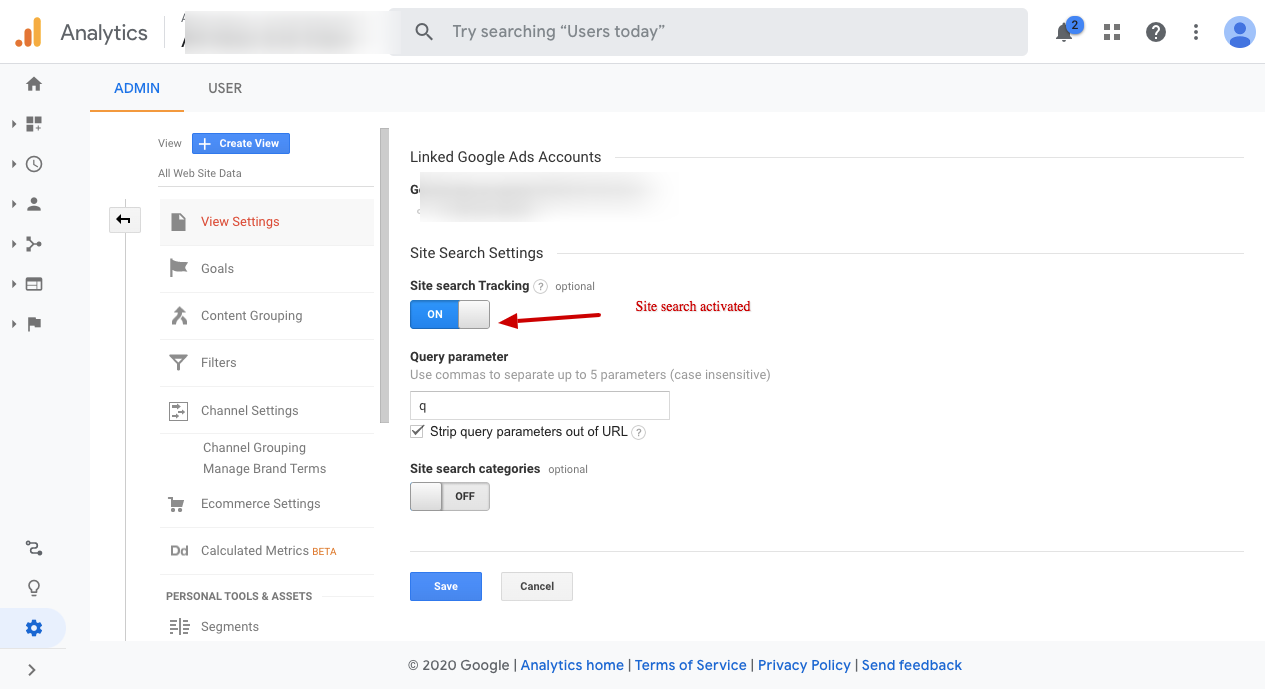 In my opinion, the Site Search report provides you one of the most powerful opportunities to improve SEO for eCommerce sites which even CRO experts use while sharing recommendations during the audit. This is one of the most important data that can do wonders for your eCommerce store. Hence, I recommend doing this exercise every quarter.
Mistake 3: Not Optimizing PageSpeed For All Pages 
I have often noticed that PageSpeed optimization is done for a homepage only. One should not ignore category and product pages (conversion pages) and should make sure to optimize these as well for good PageSpeed. This is because Google considers PageSpeed signals at a web page's level and not on a homepage's level.
Since category and product pages are usually the same, you can pick one from each category to test the PageSpeed and replicate the findings and fix those on all pages.   
Pro tip: Whenever you do any new design/development change at a page's level, you must run its PageSpeed score before making it Live. This ideally should be a part of the Q&A process.
Mistake 4: Not Redirecting Website's Non-Preferred Version To Preferred Version  
301 redirect your non-preferred version to the preferred version. For eg. if your SEO preferred version is https://www.example.com, do not forget to 301 redirect https://example.com to the same.
You need to make sure that your customer is landing on only one website (your preferred version) and not finding two different links to the same website. Use this tool https://httpstatus.io/ to check if you have redirected your non-preferred version to the preferred version. 
Mistake 5: Not Using CDN For Website Or Blog
Content Delivery Network (CDN) is a method using which a website can display its visual content like images, videos, etc. quickly even if the website is crowded with traffic. 
eCommerce websites that serve their customers worldwide get traffic from numerous locations. This could result in making the website heavier and increase its load time. Serving your visual content using CDN helps decrease server load time and directly helps in increasing the PageSpeed score, resulting in better user experience. 
However, many new website hosting platforms like Shopify provide this as a default feature but many old platforms like WordPress, Woocommerce, Magento, etc. do not.
Mistake 6: Not Installing Facebook Pixel Code & Not Enabling Enhanced eCommerce Settings In Google Analytics
Facebook marketing is an important channel for targeting audiences based on their behavior on your eCommerce website. If you want to re-target your users, you can create a lookalike audience on FB based on the real-time data of your audience's behavior around CTAs including Add to Cart, checkout, etc. 
Hence, it is important to make sure that you install Facebook pixel code on the website once you push your new eCommerce store Live. 
Mistake 7: Auto Redirecting All 404 Pages To Homepage 
The simplest way that the marketers find to control 404 pages is to auto direct all of them to the homepage. This approach works in a way that the Search Console won't report them but this is not a recommended way to deal with them.
You should understand this from the users' and SEO's perspective. It is important to identify where your users are coming from and why they are landing on 404 pages. Also, there is a huge misconception that 404 pages lowers the traffic. But that's not always the case. 
Google's @JohnMu says "it is a really bad idea" to automatically block Google from accessing your 404 pages https://t.co/8738LWE6UO pic.twitter.com/MflSg2frUb

— Barry Schwartz (@rustybrick) July 15, 2020
In my opinion, 404 pages are best to identify those products that your audience is still looking for and to spot those pages that need fixing. Many times 404 pages could be due to bad coding practices that can be easily fixed. Hence, I recommend digging deeper and trying to fix 404 pages either through code fix (onsite) or by redirecting them to the relevant page, or by removing those dead navigation or blog links from the site. 
Pro Tip: Keep an eye on the Search Console Coverage Section or use tools like Screamingfrog and try to address 404 pages with a logical SEO approach.
Mistake 8: Copying Product Descriptions To Other Sites
This is a very common case with small and medium-sized businesses. They copy the same descriptions from their website and share them on the 3rd party seller platforms like Amazon, Myntra, eBay, etc. 
User-generated content like user product reviews helps differentiate to an extent but it is advisable to keep 50% of the product descriptions unique on your website. Also, make sure to upload and keep original SEO optimized product descriptions on your website first before sharing the other versions on any seller sites. 
This increases the chances of your website to rank better since search engines would know that the original SEO optimized content is hosted on your site. This small precaution can bring you a decent increase in organic traffic.  
Mistake 9: Not Having An FAQ Page
Remember how often you look for FAQs while planning to make a purchase? FAQs are especially important for eCommerce categories like electronic products. Missing FAQ sections on the website or the product pages can result in lower organic traffic and losing potential conversions. 
The FAQ is also that section that can be infused with high conversion long-tail keywords (starting with how, when, why, what, and where). Hence, not having a FAQ page could prove to be one of the biggest SEO mistakes that you should avoid. For that, all you need to do is to find the right questions and provide useful answers.
Pro Tip: Study your user data through chat software tools or go to amazon.com and look for products similar to yours. Identify the kind of questions users are asking and try to answer those through the content on the product pages and covering the rest on the FAQs page. Another place to look for recent queries from users is your Search Console data. These queries can help you improve your landing pages by adding user-relevant content. 
Mistake 10: Letting 3rd Party Host Your Review Section 
Customer reviews (a form of UGC) is one of the most powerful SEO tools to increase your store's rankings and authority in SERPs. There are so many 3rd party review plugins/sites that let you show reviews on the product page. But do you know that if you host your reviews on such sites, then Google doesn't see this content as yours (original ownership)?
Another problem with that is you do not have control over your review section since these are hosted by a 3rd party. Also, these platforms charge a monthly fee, and hence they also have the full authority to pull down the entire review section from your website in case you fail to pay them. Customer reviews help in converting the viewers to actual customers. If this section is missing, it can drastically hit the conversion rate, especially if the website is not SEO optimized. Hence, it is advisable to use the default eCommerce platform review system to host the reviews.  
Mistake 11: Forgetting To Add Schema Markup For Local Stores
With COVID-19 changing the dynamics of the eCommerce industry, more and more local stores are going online and are opting for digital marketing. This makes the local SEO even more crucial for any local store if that business is searched for locally by its customers.
Also, it is one of the most common SEO mistakes to not be consistent with the NAP (Name, Address, Phone Number) across platforms. Your address needs to be consistent and unique to make sure that Google doesn't get confused and can help with local citations and pass on the local SEO ranking factors better.  
Mistake 12: Targeting High Competition Keywords In The Beginning 
At the beginning of my career, I too made a mistake to aim for high competition keywords for new websites. However, back then, the off-page SEO was so strong that you could find your way around Google Algorithms and could achieve rankings for even the toughest and most competitive keywords. 
But today, if your website is new, it is almost impossible to rank for most competitive and high search keywords. Tools like Ahrefs let you check the difficulty score of the keywords and help you make an informed decision while aiming for the right keywords.
For eg: The keyword "SEO Mistakes" will always have higher searches than the keyword, "eCommerce SEO Mistakes", or "Magento SEO Mistakes", or "Shopify SEO Mistakes". 
Mistake 13: Ignoring Structured Markup Errors 
One of the eCommerce SEO errors that I have observed oftentimes is that the product page markups are not implemented correctly. Your markup code should be 100% error-free. Hence, make sure that you take the errors and warnings seriously. You can use Google Structured Markup Tool, https://search.google.com/structured-data/testing-tool/u/0/ to examine your Schema Markup Errors and fix them immediately. 
Mistake 14: Blocking CSS & JS Files Via Robots.txt File
By purposely or mistakenly blocking CSS and JS files in the Robots.txt file may result in disallowing the Googlebot to render the page properly. Google reflects this clearly and sends notifications in the Search Console in case it is unable to access the files. Make sure that you have not blocked any of your files. If you have, unblock them immediately and test in Google to see if Googlebot can render the page properly. 
Mistake 15: Not Linking Search Console With Google Analytics
Admit that you spend a lot of time on Google Analytics and Search Console separately for checking traffic, conversions, page views, geo, etc. The point is, it is not only difficult to juggle between the two but also unnecessary. All you need to do is link both of them so that you can access all Search Console data in Google Analytics.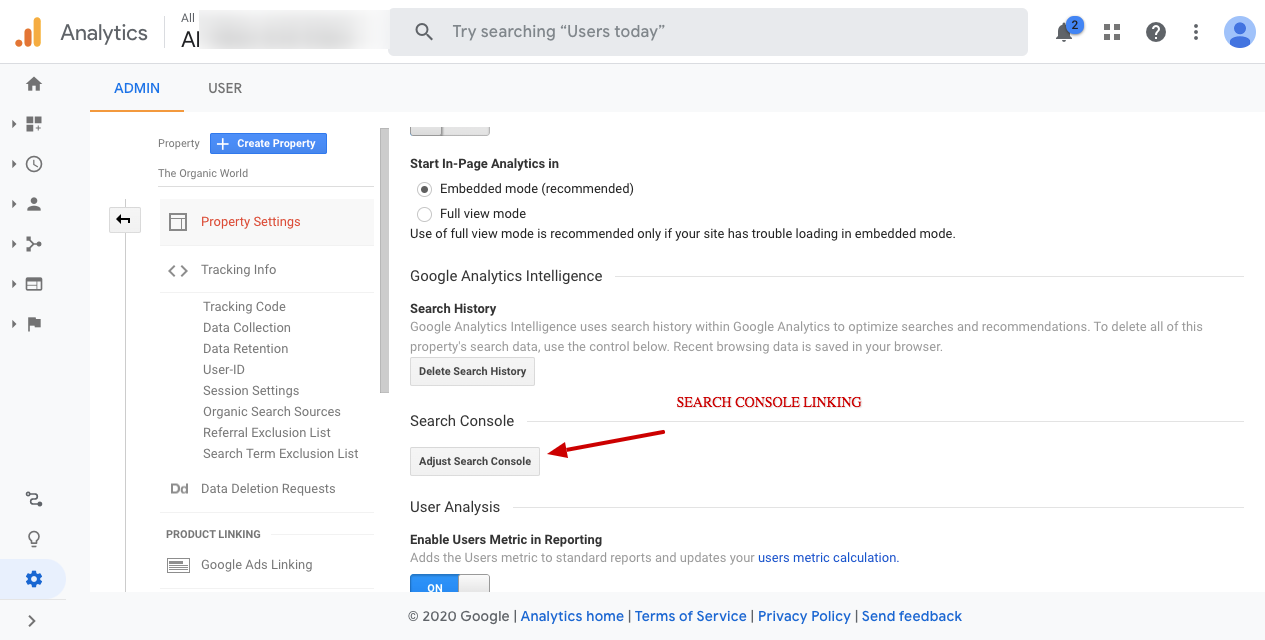 Mistake 16: Not Optimizing Sales/Offers/Deals Pages For SEO
Seasonal sales and discount offers are common in the eCommerce industry. One can spot such marketing strategies almost on every eCommerce website. However, marketers often miss out on this low hanging fruit by not optimizing such web pages for SEO.
These sale pages have higher conversions because they attract audiences by giving them extra benefits. They often directly increase the traffic on your website. If you combine the top-selling category keywords with your focus keywords like "Sale" or "Discount", it increases the chance of conversion manifolds. Hence, you should avoid this most common mistake and optimize your sale/discount pages for SEO.  
Mistake 17: Ignoring Orphan Pages On Your eCommerce Store
Your website's structure is very important for better crawling and indexing. Often, multiple pages like sales pages, seasonal discounts, customize product option pages, temporary products page, etc. are left untreated or unlinked from the store. 
It is important to identify such pages and optimize them for better results. In case a few of them are not required anymore, they can be redirected to their parent category page to ensure a relevant experience for the customer. 
Mistake 18: Having Multiple H1 Tags On Homepage/Product Page Titles
Though Google has made it clear a long time back that you can have multiple H1 tags, almost every free or paid SEO including the Bing Webmaster tool still report this as an SEO error.  
In my opinion, you should keep the H1 tag unique on every page. This is because multiple H1 tags seem like a forceful way to target your main keywords. Hence, if you have duplication of H1 or H2 on any particular page, you should fix this on-page SEO error.
Mistake 19: Not Optimizing Product Pages' Meta Tags
Product pages are money pages, and SEO optimization for these pages can directly result in increased conversions on your website. Although, optimizing each and every product page is surely a challenge for any eCommerce store. But there is no way around it because this task is super important and you know it. 
Therefore, if you are a small store selling 10-15 products, then this task should be on your priority list. If you are a medium or large store with hundreds of product pages, you should at least try to optimize your top/bestseller product pages so that they can rank better on Google and bring your target audience to your website. 
You can do so by identifying your top-selling pages from Search Console page queries or Google Analytics landing page data. If you do it right, you will also notice the spike in impressions and clicks. However, you need to be strategic and careful while choosing the keywords to ensure they do not cannibalize your other pages, especially category pages. 
Mistake 20: Missing Social Sharing Buttons On Blog Posts
Do not forget to add social sharing buttons on your eCommerce blog. It gives your readers (customers) an option to share an interesting blog post with their friends on social media platforms. This can result in increased traffic on your website besides adding credibility to your blog and brand.
Mistake 21: Using Spammy Backlinks Techniques
If you are using techniques like doing link building on directory sites with low Domain Authority or doing excessive link building using blog comments or social bookmarking, these are the off-page SEO mistakes to avoid. Such techniques are outdated and are not recommended. As a new website, your focus should be to build technical SEO, generate relevant content, and optimally utilize social media channels to make your website's ranking better.
Mistake 22: Not Using AMP For Blogs
Most of the news websites use Accelerated Mobile Pages (AMP) to provide ease to their reader and it to help the websites load faster with better PageSpeed. It does the same for an eCommerce store website. Hence, make sure to activate AMP on your eCommerce blog. You also need to make sure that AMP pages are getting tracked by Google Analytics to report traffic statistics. 
Mistake 23: Not Targeting Long Tail Keywords
If you are creating a content strategy for your eCommerce store, make sure that you focus on long-tail and user search keywords as well. This is because many times the conversion rates from long-tail keywords are higher when compared to the shorter ones. You can use Search Console data which is like a gold mine to find new keywords. Your content funnel should ideally be based on 3 categories of keywords, i.e. Head, Body, and Tail. I will discuss this content strategy in my upcoming blog post. 
Mistake 24: Missing Open Graph (OG) On The Website
You must have noticed that when you share a website's link on WhatsApp or Twitter, it gives an overview of that web page. This helps the receiver to know what that link is all about and makes them click on the link to know more. That happens only if you have Open Graph tags implemented on your eCommerce website pages including blogs. Adding this tag to your website won't directly affect your on-page SEO, but it will influence the performance of your links on social media and improve your click-through rate. 
Mistake 25: Not Blocking Staging/Test Environment Website
If your eCommerce store is using platforms like Magento, Woocommerce, etc., you might have set up a staging/testing website. Every small and big change first goes Live on the staging website and then on your actual website. Oftentimes store owners left their staging website unblocked which starts ranking on Google. 
Making your potential customer land on a staging website can negatively affect your store's branding and SEO. If you don't want to make that happen, make sure that you block your staging store via Robotst.txt or Noindex tag. There should only be one unique website ranking on Google and i.e. your preferred version of the site.
Mistake 26: Leaving Title Tag Of The Website Blank
Another common SEO mistake I have noticed is that small scale business websites or brand sites leave their Homepage title blank. It then shows as "Home" or "WebsiteName" "BrandName" "Websitename.com". Adding an SEO optimized title tag on the Homepage can result in better visibility of the website.
Mistake 27: Not Setting Up Bing Webmaster Tools
Bing Webmaster is an official tool just like Search Console for Google to analyze your website's health and improve its ranking in Bing. Bing has a great market share and hence, you must have Bing Webmasters set up and optimized properly.
Mistake 28: Missing Image Alt Tags
Whenever you add images on your website like Homepage banners, blog images, etc, make sure you add an image alt tag to help discover them in Google image search results. Over a period of time, you will notice decent traffic coming from Google images as well. This is a super useful hack for luxury eCommerce brands that usually have high image search traffic. 
Mistake 29: Website Pop-Ups on Mobile
Make sure that you don't show pop-ups to users or force them to close the pop-up to view content each time.  Showing pop-ups even before the user could read the content of the page could irritate them and make them exit your website. Google has a penalty for this. To avoid that, make sure you have pop-ups that are mobile friendly and inline with Google guidelines. You can read more about it here, https://webmasters.googleblog.com/2016/08/helping-users-easily-access-content-on.html.
Once you know these SEO mistakes, you will be better equipped to design the SEO strategy for eCommerce sites. The next step is to onboard the client and to close the deal.
To get you a fighting chance at it, I have come up with the most common questions asked by the clients about their eCommerce website with respect to SEO.
Why are my product pages not ranking on Google?
Product pages are not easy to rank. There are many factors that matter, like product pages' SEO, schema markup tags, user product reviews, content uniqueness, internal links, breadcrumbs navigation, backlinks, etc. You need to optimize your product pages and give them sometime before they start delivering results. Read product page SEO guide and tips here, . 
Why do I have a high bounce rate on my store?
This could be the result of the combination of a few or many factors like bad UI/UX, irrelevant content, irrelevant people landing on the pages, low/thin content, bad CTAs, low PageSpeed, etc. A high bounce rate is usually a result of bad UX/UI or low-quality content of the website. Hence, you should focus on those areas. 
Why is my review/star rating not showing on Google?
Firstly, there is no guarantee that Google will show the star rating of your store. Secondly, one of the most common eCommerce SEO mistakes could be that you might not have implemented the schema markup tags correctly on your product pages. Check for the tag using Structured Data Testing Tool and rectify all errors that might be stopping your eCommerce store pages to rank on Google. 
Why does my store website show warning messages in the browser?
One of the SEO errors on eCommerce sites could be the possibility of Secure Socket Layer (SSL) not implemented or configured properly which results in warnings from your website. You must also ensure that all the URLs on the website should be in https (secure version). 
Why has my website traffic been declining since last migrated/upgraded?
Website migration is the toughest challenge for any eCommerce store. If you have shifted your store from HTTP to HTTPs, then I recommend reading this checklist here,  It will help you identify a few or many important points of migration that you might have missed, resulting in low organic traffic.  
Why is Google Analytics showing (not set) traffic in the source?
This has to do with the Google Analytics configuration setup. I suggest reading this wonderful article here by Paul, https://online-metrics.com/not-set-google-analytics/
Why are my new product pages not getting any traffic?
Domain Authority (DA) and Page Authority scores are the important factors to decide how fast your new pages will rank on Google and will get traffic. If your website has a strong DA and has proper internal links, then they can rank faster. One of the things that you can do is to write a blog post about your new collection or category and link that with your old blog posts or start sharing blogs on social media and other sites like forums, groups, etc. to help Google notice them. Also, make sure that your sitemap is submitting new pages/sections properly. 
What is a Facebook pixel and why is it important for my eCommerce store?
Facebook pixel is an important tool that will help you understand your user behavior on your website (particular pages, sections) around conversion points like 'Add to Cart', Checkout, etc. Based on this you can create a custom audience to target them better. You should install the Facebook pixel the moment you launch your store just like you install Google Analytics or Google AdWords code.
How should I handle product descriptions from an SEO perspective?
Product descriptions should be at least 50% unique. Oftentimes store owners make the mistake of keeping the same product descriptions on their websites and on 3rd party stores like Amazon, or Myntra, which hurts the credibility of the owner's website.
How to do SEO for a multi-language store?
There are lots of SEO actions that one needs to implement in that regard. However, the most important one is to add a hreflang tag on your pages to help Google differentiate between different languages. 
Fixing the above most common SEO mistakes on your store's website can help you aim for better ranking on Google. However, the wrong implementation of the above suggestions can even make you lose your current traffic. Hence, I highly recommend getting in touch with an experienced SEO consultant for an expert's advice. We specialize in Ecommerce SEO to help grow stores and rank better on Google.
I depart by sharing the golden rule of SEO- make the user experience a priority. With every new update, Google has made it more than clear that the user's experience will help decide the ranking of the website. At the end of the day, if you can make your audience happy, you can make Google happy. In fact, Google has already announced an update rollout in 2021 that will affect rankings based on the user behavior on the website. 
Also, as Google trends are ever-evolving, I will appreciate it if you can add a suggestion or two in the comments below from your experience.