Imagine selecting an outfit online for an upcoming wedding of a friend. Now suppose that you need to know if the online store could deliver your dress within the next 15 days at your address.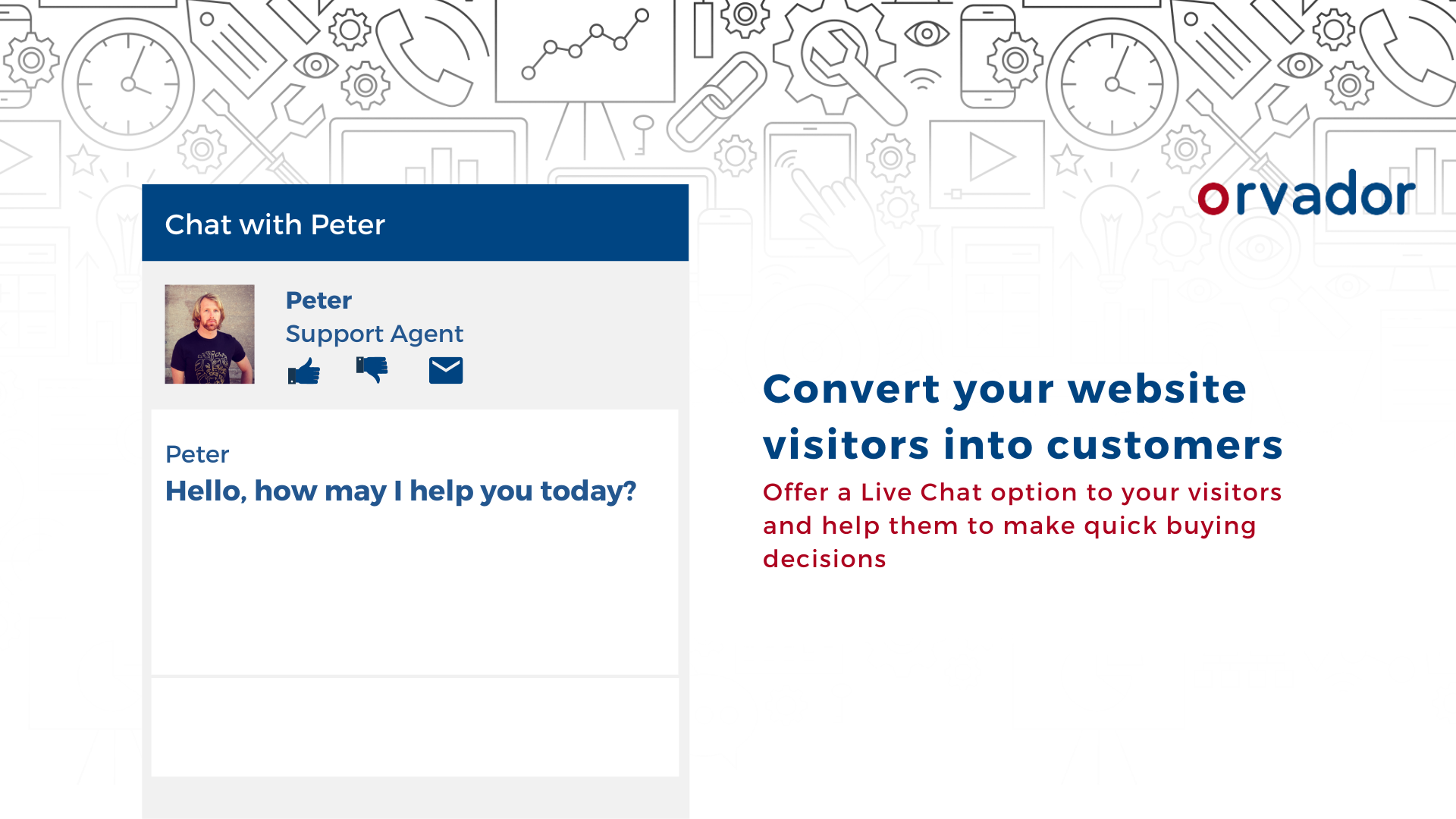 How would you ensure that? Would you want to write an email to their customer care or would you prefer someone being available right there and then who could answer your queries in a minute?
Most of us would go with the latter. Now the question is, is that even possible in an online store?
Well, it is! An eCommerce store can embed a 'Live Chat' option on their website and make their customer service much faster and better, exponentially increasing the sales.
Let's Start By Understanding, What Is eCommerce Live Chat?
eCommerce Live Chat is an option that enables a customer to talk to a store representative while shopping. It looks like a dialogue box that pops up on the website, asking the visitor if they have any questions.
This Live Chat representative could be a real person answering your queries and assisting you to buy the products or it could be a chatbot, coded to provide you with the best answers to your questions.
Here's How Live Chat Converts Your Visitors Into Your Customers
It's Instant, It Converts! : People make buying decisions within seconds. One quick answer about the right size availability question can become a deal-maker for your customer. It also makes the shopping experience easy and seamless for the customers. When required, a customer can click the chat window and the Live Chat agents can see which website is the customer browsing and can provide instant answers. This reduces customer conversion time, resulting in better sales.
Gives 24 Hours Assistance: Besides having a team of agents who could handle queries on Live Chat, you can make your service better by using chatbots. These automated chat robots never sleep nor they get tired. So, literally, if your customers need assistance at 3 am in the morning, your customer service guy (the chatbot) will be available to do that for you.
Better Service At Lesser Cost: A major advantage of Live Chat support is that your agent can assist more than one customer at a time. It's possible because most Live Chat apps offer features that let your agents see multiple queries at once and respond to them simultaneously and quickly. They can also respond to frequent questions with pre-populated messages, saving theirs, and customers' time. Hence, you need not have multiple store representatives to handle multiple customers. The representative: customers could be 1:10.
Builds Personalized Relationship: Getting in touch with an agent on a Live Chat makes the whole experience personalized for the customer. Some chatbots even greet you by your name and then politely ask how they can help. This way, the customer feels heard without waiting in line to get his queries answered. A good Live Chat app also allows the agents to see the visitors' activity on the website like which product they searched for, etc. basis which agents can provide personalized suggestions to the visitors to convert them into real customers.'
Provides Detailed Information: Customer queries are often similar but never the same. Customers with very specific questions will demand a thoughtful and detailed response. Others may just be struggling to find out your shipping fee and are happy with a brief answer. Live Chat gives you a chance to address both customers with appropriate consideration and answers. With the Live Chat option, the good thing is that the representative can engage in long conversations with a customer until they get satisfied. This builds trust among customers and in most cases, they end up making the buying decision.
Besides, to improve your customer service, you might be interested in exploring the 'Voice Search' option for your eCommerce store.
Live Chat can either convert your visitor into a customer or can scare them away. To make sure that you use this tool right, these are a few of the things that you need to take care of while using the Live Chat software for eCommerce.
Place it right! The Live Chat option should not hide the items on your website by popping up at the face of a customer the minute they land on your eCommerce website. That being said, it should be eye-catching enough that it is visible to the customer in plain sight if they need it.

Establishing Connection at the right time. Popping Live Chats can be irritating as well. Hene, it is important to ensure that you reach out to the customer only when they need you.

Keep your messages ready. While shopping at an eCommerce store, the queries of visitors are often similar. This means you can predict the broad questions and keep your answers ready to ensure a quick reply.

Feedbacks are important. To retarget your customers or reach out to them with the right suggestions, it is important that your software provides you with the right data about your visitors.
Now the most important question is- does your eCommerce store require a Live Chat option? If your customers have a lot of questions and most of them are similar in nature then Live Chat will make your life easy and save you some cost. Whereas, if you do not receive enough queries per day or your customer queries are complex (given the nature of your business) that you need to get on a sales call, then Live Chat will not benefit you much.
If you need assistance in integrating the Live Chat option in your eCommerce store, then get in touch with the team of experts at Orvador to help you make the right choice.